A team of wood lovers committed to quality
We include strong values in our shared passion for woodworking
The Noirdebois story begins on the other side of the world, in Japan, during a journey to discover Japanese culture. By crossing the Japanese islands and countryside, we discovered a wood preservation technique: Shou sugi ban. Commonly used on the facades of traditional houses, this technique involves burning the wood to render it rot-proof.
Back in France, with the support of wood construction specialists, we embarked on the adventure of revisiting this ancestral method and applying its virtues of durability and resistance to construction.
Today, Noirdebois is an association of architects, engineers and contractors, all of whom love wood and the authenticity of this noble material. A member of the family-owned SYLVAGREG Group, with 40 years' experience in the building industry, our company has become France's leading manufacturer of burnt wood and authentic cladding.
Creating sustainable exterior and interior wood cladding solutions
Innovation and adaptability: these are the values of Noirdebois
Your needs are constantly evolving, and our priority is to support you in each and every one of your projects. To achieve this, Noirdebois is committed to continuous research and improvement, in particular by constantly clarifying the details of its processes.
Our pleasure is to innovate at your service!
Quality products
And know-how made in France!
Established in France, in the heart of Europe, we have developed genuine "made in France" expertise.
From mastery of the process to the choice of species, we pay particular attention to the quality of our finished products. In collaboration with the FCBA, our approach is based on laboratory tests that meet quality and certification requirements.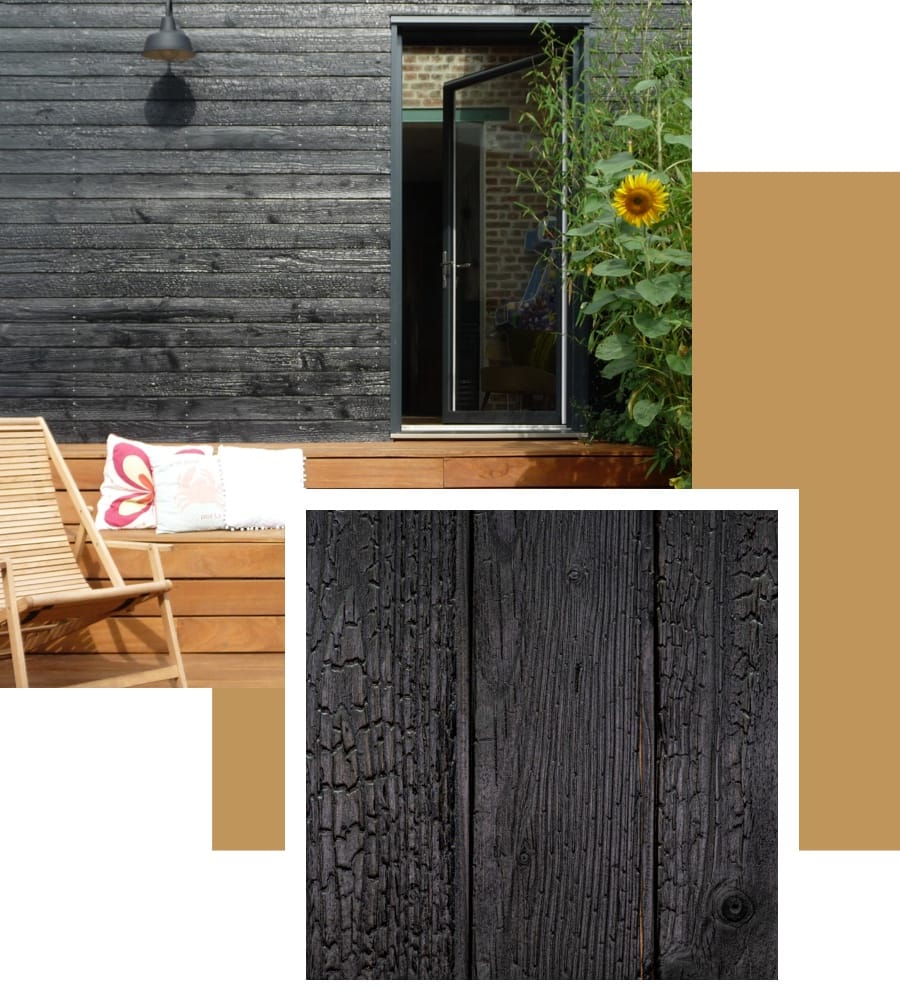 More than just a company, Noirdebois is your reference for burnt wood and authentic cladding.
Our wood is sourced from French forests
Products made in our Hauts-de-France workshop
By sourcing our wood from French forests and producing it in our own workshops, we want to help sustain the activity and jobs in the production chain of the French wood industry.
We wish to contribute to limiting greenhouse gas emissions: by minimizing the transport of our raw materials, by using wood and its unique advantages, which no other material can match. Wood is a natural and renewable solution to the challenge of our century: climate change.
We are committed to continuous quality improvement to meet your expectations: the perfect solution to your needs is the fruit of many years of meticulous work. Our aim is to be respectful of nature and people.
We contribute to limiting greenhouse gas emissions by minimizing the transport of our raw materials.
Let's discuss your project
Our team is at your disposal Monday to Friday from 8:00 to 18:00
without interruption on 03 59 22 83 04 or via our contact form.